An honest answer, please? Are you with Steve Jobs on this? Or with Richard Branson? Or maybe Simon Sinek?
….
According to Steve Jobs' philosophy, customers come first.
Ask Richard Branson and Simon Sinek, and you would start working with your employees. Surely, there would be no happy customers without happy employees!
Who are you with?
Tricky discussion, because both are right.
Are you building a customer-focused culture?
Are you building an employee-focused culture?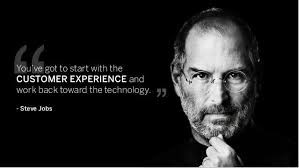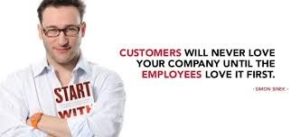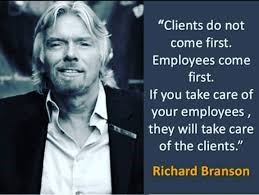 Is there a right or wrong? It is a choice, a choice that suits your organization and that generates revenue in the fastest way. Revenue in the sense of happy customers, AND happy employees, and also a successful business.
We believe that ultimately, people are always at the centre. One cannot do without the other. Without happy employees, there are no happy customers and vice versa.
In short: if you're building a people-focused culture, you're always getting it right!
However, you will have to make a choice on how to start: who is responsible and how do you involve both customers AND employees?
It is important to get started on this in a great and energizing way, so employees are engaged and willing to build a different culture. A culture that gives them space to be who they want to be, that makes them feel at home and about which they speak positively… But above all, you want to build a culture that makes it possible for employees to thrive, to grow as a person and to provide the products and services to customers as you promised to do.
You will need more than "Great" and "Positive Energy"!
Employees will need a framework within which they can move freely, to learn and to experiment. It doesn't matter what label you put on this; a customer compass, a customer guide, a customer promise or guiding principles. As long as these can be connected to:
Who you would like to be as an organization (core values)
Your promise to your employees and customers.
Plus it needs to be very specifically translated into actual behaviour.
Once you tick these boxes, employees will know what is expected of them so they can provide customers with the experience they were promised and that matches their needs. An experience that makes life easier for customers and that can be enjoyed by customers and employees. The result: Enthusiastic customers, enthusiastic employees AND a successful organization.
Easier said than done
Where do you start? And even more so, who is the initiator? Many think it should be the HR department, others think that EX is one of the responsibilities of the CEO. Sowing the seed is where it starts, so who is taking the initiative isn't that important. It is very important, however, that this gets proper attention. so someone needs to get final responsibility for everything to do with EX, from employee journey to engagement and culture.
The Employee Experience Game brings employee experience ALIVE!
To help with the first step, Nienke Bloem and Babs Asselbergs have developed a tool to create awareness and to practically realize an employee experience together with HR, Management and Employees.
Following the success of the Customer Experience Game, the Employee Experience Game was only a matter of time. The Employee Experience Game is a board game which makes HR teams and managers experience in a nice way how they can get their employees to thrive. In that way, employees can be successful themselves and more specifically contribute to the success of the organization.
The EX Game is a facilitated board game with tailored questions and assignments that have to be finalized within a limited amount of time. Employees are getting a voice in the organization and actions are taken directly. Participants will get to know each other and learn from each other's experiences. They will know what is going well and what is required to provide that optimal employee experience together: from attracting the right employees to retaining them and, eventually, an empathetic departure. Above all: they will have lots of fun together!
The EX Game can be engaged as an independent tool, but can also be used as a change tool, so organizations can – after a Facilitator Training – get started themselves.
Want to know more about the possibilities? Go to www.theEXGame.com or contact Babs Asselbergs at babs@blommaberg.nl or 0031(0)6 17 44 32 49